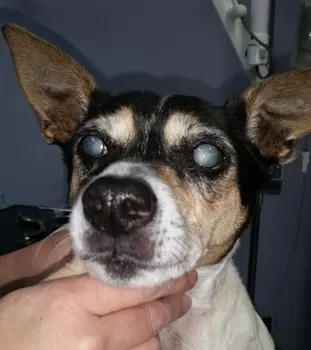 ---
What is a cataract?
A cataract is an opacity of the lens in the eye. Cataracts can be inherited in many breeds, such as the Poodle, Cocker Spaniel, Schnauzer, Golden Retriever, and Labrador Retriever. Other causes of cataracts include diabetes, trauma, inflammation, and puppy milk replacements. Cataracts can interfere significantly with vision, and removal of the cataract may restore useful vision. However, if another visual problem is present along with the cataract, cataract surgery may not be indicated. Ocular problems that may preclude cataract surgery include retinal disease (degeneration, detachment), severe corneal disease and glaucoma.
---
What is cataract surgery?
Cataract surgery for people has evolved tremendously in the past thirty years and fortunately for our pets, veterinary ophthalmology and cataract surgery in animals has followed this trend. Cataract surgery for pets today is performed in an identical fashion as cataract surgery in humans. The same equipment is used in both human and veterinary ophthalmology including an operating microscope and a phacoemulsification machine.
Cataract surgery is performed by a process called phacoemulsification which involves the fragmentation with simultaneous aspiration of the lens. This method of cataract surgery allows the surgery to be performed through a small corneal incision and allows the insertion of a foldable synthetic lens. This process will be described in greater detail at your pet's visit and any questions or concerns relating to the surgery can be answered for you at any time.
---
What is the success rate?
If performed at the appropriate time and if postoperative treatments are given properly, cataract surgery has approximately 90 to 95% success rate the first year after surgery. We define "success" as return to useful vision. This means that about 5 to 10% of cataract surgery patients are going to experience some complications, but most can be managed successfully if treated appropriately. This makes returning for re-examinations extremely important. If your pet has an increased risk for complications, this will be discussed with you prior to surgery.
---
When can cataract surgery be performed?
If cataract surgery is indicated and there are no ocular contraindications, cataract surgery may be performed on any animal that is in good health. If cataract surgery is performed, your pet will be on medications for several months after surgery. These medications may be needed three to four times a day during the initial post operative period. The success of the surgery is directly related to the post-surgery treatments.
---
What happens when my pet comes in for cataract surgery?
Your pet will have a thorough eye exam. If there are problems that need to be treated before surgery, you will be sent home with medication and surgery will be rescheduled. Approximately 50% of first visit cataract patients require additional diagnostic tests or treatment before they are ready for surgery.
On the day of surgery, your pet will be anesthetized and the hair around the eye will be clipped. During and after surgery your pet will be monitored closely and will be kept comfortable and calm. Multiple thorough ophthalmic examinations will be performed and medications will be given and adjusted as needed for your individual pet's case. All cataract patients receive an Elizabethan collar which needs to remain on your pet at all times for the first three weeks following surgery.
---
How often do I have to come back after surgery?
This will vary greatly with the response of the patient to the surgery but all patients need to return one week following surgery. This first recheck is crucial to surgical success. Return visits will be tailored to your pet's individual postoperative results but typically rechecks are scheduled every two to three weeks for the first two to three months and then scheduled accordingly. After the first six months following surgery, return visits are typically recommended every four to six months to monitor for long term complications.
---
What kind of post operative care is involved with cataract surgery?
Activity should be markedly restricted, i.e. no running, jumping, tug-of war, or playing rough.
Leash walking is allowable, but the leash must be placed so that no direct pressure is placed around the neck. A harness is ideal for this but you may improvise by looping the leash around the front leg.
No baths should be given until 3 to 4 weeks after surgery. If flea spray is used, do not use it near the face.
It is preferable to give pills in a treat of a small amount of canned dog food so that you do not risk poking your pet in the eye accidentally by trying to "pill"it.
Your pet will be sent home wearing an Elizabethan collar to protect the eyte from accidental trauma or rubbing. The collar should be worn until the ophthalmologists indicate otherwise.
Please follow your medication schedule carefully. Your postoperative care is extremely important to the results of the surgery. Drops should be given at 2 to 3 minute intervals to avoid dilution and loss from overflow.
Do not hesitate to call your referring veterinarian and/or Animal Eye Center if a problem or question arises.